Three-beam Spunbond Nonwoven Line Series
Product categories of Three-beam Spunbond Nonwoven Line Series, we are specialized manufacturers from China, Non Woven Polypropylene Fabric, Three-Beam Spunbond Nonwoven Line suppliers/factory, wholesale high-quality products of Beam Spunbond Nonwoven Fabric Line R & D and manufacturing, we have the perfect after-sales service and technical support. Look forward to your cooperation!
China Three-beam Spunbond Nonwoven Line Series Suppliers
Three-beam spunbond nonwoven machines distribute polypropylene (PP) by three dies, which greatly promotes the output of nonwoven fabric. The product of SSS Nonwoven Machine is more suitable for baby diapers, older diapers, sanitary napkins and so on. Based on the advantages of SS Nonwoven Machine, SSS nonwoven machine has higher ability of distribution of PP, greater output of nonwoven fabric, higher intensity of nonwoven fabric cover, better permeability of nonwoven fabric.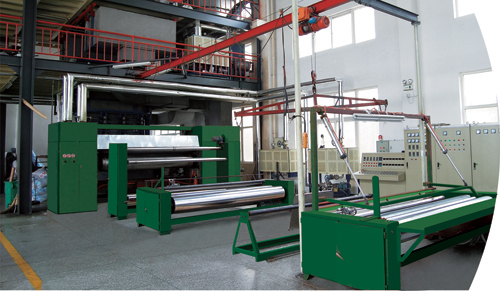 Main Parameters of Three-beam Spunbond Non-woven Line:
Quantity of Die

Spunbond Unit: 3 set

Effective Width

1600

2400

3200

GSM

9-100

Embossing Pattern

Diamond

Oval

*Customizable
If you have any question about the nonwoven production line, please contact us directly. We will reply you as soon as possible. We are willing to take you to visit the factory.